Once upon a time-- although I assure you, this story is very much real indeed-- I spent the night in a state of turmoil, as my friend (soon inevitably to be turned into my best) and I pounded the keys to her laptop in a fury. Our mission was simple, yet tedious: locate the whereabouts of a pair of black, suede, flat boots. The flat part was the actual mission. While most women prefer a heel of sorts, I became obsessed with the idea of accentuating my height, or lack thereof, when I saw the Swedish foreign exchange student purchasing Scantrons and freshly sharped No. 2 pencils in the college bookstore. I found myself standing in the same aisle as her, eyes fixated on her boots. I had never owned a pair of fashionable boots before, and the idea seemed satisfying. The mission was a total failure- eBay, Amazon, shopbob, and all the local department store websites provided an unwanted variant to our original desire. We eventually carried out the evening's original plan of socializing among people we'd soon forget the names of, preferably while intoxicated on some alcohol we didn't purchase.

A few months later I found myself at the mall after work. My former employer was located directly across from Fresno's Fashion Fair and my pocketbook surrendered endlessly during this time to consumerism. I wasn't looking for anything in particular; one of those "good things come when you aren't looking" sort of situations. Well, I was just on my way out the door of Macy's when a black and suede and- gasp! FLAT boot caught my eye. Excited and delighted, Steve Madden had hit his target market. And hit me hard, he did indeed. Black and brown were available, and I of course chose black, but not before making the call to my friend and shrieking about my find.

From then on, I found my favorite pair of shoes. My boots and I were like peas and carrots. I was sad on days when it rained (rain causes suede to look like a dog had licked it, leaving behind a god-awful- and permanent- stain.) And even when the cold subsided and the sun returned, I wore my boots with shorts. Now, three years later, I look down at my boots... stained, stretched, and worn. And I still love them the same way I did when I first laid eyes on them. 

In reading the subject, I realize I digress. I'll end the suspense and get back to the initial purpose of this "fashion" blog. 

Ladies, I've gotten lots of compliments on my boots as well as questions on where I purchased them. Unfortunately, I've always had to explain that I bought them years ago, and I've been unable to find them since. Yet the good news is that they are Steve Madden which means, like with most popular designers, it's just a waiting game: when will he recycle that style? 

The wait is long over. Fall 2008 has welcomed back the Tianna: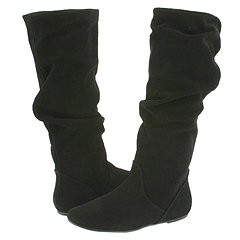 This season they're available in not only black and brown, but also heather gray, deep purple, and forrest green. They're also on pre-season sale for $58, available starting this weekend at your local Macy's. 

I know I'll be there to grab a new pair. And even though all the new colors seem tempting, black will suffice the same way it did then.